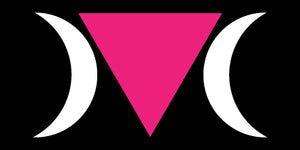 What does your logo mean?
The traditional triple goddess image depicts a waxing crescent moon/full moon/waning crescent moon which represent the goddess in her triple form, maiden/mother/crone.
The pink triangle was used primarily as an identifier for gay men during the atrocities of the Holocaust. The pink triangle is reclaimed as an iconic gay/queer symbol, most notably during the AIDS crisis most by the organization ACT UP. They took this oppressive image and turned it into a powerful tool for healing. Silence = Death
I inserted the pink and black triangle as the full moon/mother aspect in the triple goddess image as a way to subvert fullness to represent the dynamic, brazen, bright resilience that comes from being queer. My intention with this image is as a visibility spell for LGBTQIA+ witches to step into the full illumination of the sacred time of life between maiden and crone. It's about being seen as a powerful force of spirit, edge-walking, and radiating fullness between and through the worlds.
General questions
How are Magic Hour candles different from other kinds of candles?
We are not in the business of comparing, but if you buy a Magic Hour candle, we can assure you that it is made with great care and intention from start to finish. Magic Hour candles are created in an intentionally magical space, with the highest quality, most ethical ingredients available.
Can you do an extra spell for me?
Unfortunately not. We make candles in small batches and enchant four pounds of wax at a time, which impedes individual candle spells. Due to the handmade nature and the size of production, we are unable to make custom candles for specific people.
If you want a Magic Hour candle, but are unsure of which candle to purchase or need some advice, you can always contact us.
Do you gift wrap? Can I include a gift note with my order?
Yes! Magic Hour candles make wonderful and thoughtful gifts. We would be delighted to handwrite your gift note on colorful note cards and gift wrap your candles in beautiful custom printed gift wrap for $2. At checkout, check the box that says gift wrap and utilize the gift note box for what you'd like your gift note to say.
How do I burn my candle?
When you are ready to burn your candle, please hold the candle close, visualize and state your intention or wish. As you light the candle for the first time, allow your energy and wish to be imbued within your candle. Once it is lit, let the initial burn be no less than two hours, which will melt the magical seal and allow your spell to be opened by the flame. A two-hour minimum initial burn also allows for an even candle melt and an appropriate wick length to ensure that your candle burns clean all the way through. 
As you tend to your candle, you are tending to your magic, your wish, and your intention. Keep it close to your heart!
How do I take care of my wick?
You do not need to do anything to your wick before your initial burn. After that, you may want to trim the wick for a cleaner, less smoky burn. 
After your first burn, we suggest that you monitor your wick and trim it before each lighting if the wick is curling, mushrooming, or is longer than an inch. To do this, you can use a wick trimmer or can pinch the wick excess with your fingers and pull. If you pinch and pull, your wick will naturally come off in your hand. 
With large candles, we use the end of a fireplace match to flick the wick until it is down to the right size before lighting. Do not trim the wick to less than 1/4 inch, or your candle will not be able to achieve a large enough flame to evenly melt the wax.
How scented are your candles?
As scent-sensitive people, we make things for people that are scent sensitive. 
We use oils for their energetic properties, as opposed to their fragrance. Your candle will have a subtle smell (some more than others) that is very mild and intensifies a bit while burning. Candles listed with oils vs essential oils tend to have more scents. Some candles, like the exclusive holiday and astrology candles, contain all-natural fragrance oils and will produce more of a scent.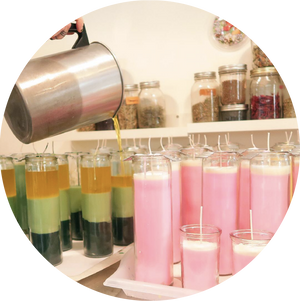 What does it mean to be handmade?
Bran's hands are in every step of Magic Hour candle preparation and production. Bran creates flower, tree, gemstone, and environmental essences, clears and charges all gemstones, tends the wax, sets the wick, enchants the wax, and pours small batches of candles at a time. Each candle has at least three separate wax pours and once they are set, they are topped with herbs to complete the spell.
Once the candle is done, we finish it by putting the labels on, packing it up and shipping it out. Magic Hour is a one person team until the candle is fully done. There is never a machine involved.
Our goal is to make tools for people to use. Bran does this work in service to the sacred flame, the goddess, and the people. Every candle is born out of a sign from spirit.
Ingredients
What type of wax do you use? Is it vegan? Where does the wax come from?
Our wax is US-made. It is non-GMO, all-natural, 100% soy wax. It is not certified organic at this time, as non-food organic certifications are rare and expensive. We are proud to say that our wax is the cleanest soy you'll find. There is no paraffin in our wax, which means Magic Hour candles offer a clean and low smoke burn.  We do not use beeswax because it is a resource that we'd like to conserve. If you are interested in beeswax candles, we recommend:
Where do the herbs and flowers in the candles come from?
Many of our herbs and flowers are home grown by us! In the cases where we don't grow what is needed, a local witch farmer specifically grows herbs and flowers for us. All local plant life is harvested and processed with care and gratitude for the land that grew the plant and for the plant itself.
A small amount of our herbs are ordered from an ethical herb business online. We do not wildcraft any of our herbs.
What are flower, tree, gem, or environmental essences?
An essence is a vibrational medicine made from a flower, tree, gem, or place. It is made with great intention and gives subtle energy. Essences are can be made by anyone and used by all. Relationship with the ally that the essence is made from is very important. I listen and receive the magic of the plant and mineral worlds.
More on the accessible medicine of flower essences can be found here.
Candle Care
How long do the candles burn?
All burn times are approximate and will vary slightly from candle to candle.
Small candles are 5 ounces with a burn time of approximately 30 hours. Our large candles are 8 ounces, with a burn time of approximately 120 hours. The 9.5oz candles, like the astrology or holiday candles burn for approximately 40 hours. And the mini candles are 3oz and burn for approximately 12 hours.
What do I do with my glass once the candle is burned?
We recommend recycling the glass vessel, but it must be cleaned before doing so. You can do this by pouring boiling water into the glass, melting the wax, and pouring it residual wax out. Or try sticking the finished candle in the freezer and cleaning out the wax when it is cold.
If you have very clean glass and want to send it back to us, we would love to reuse it. Please contact us for more info.
You can also reuse your candle glass as a vase, drinking cup, pen holder, etc. Use your imagination!
Where is my gem, and how do I get it out?
Not all of our candles contain a gem, but most do. Please read candle descriptions to find out if you have purchased a candle with a gemstone nestled within.
For each candle that does contain a gem, you will find it at the bottom of the candle. When your candle is all the way burned through, there is usually a 1/4 inch of wax left at the bottom. You can melt this wax by putting the candle into a surrounding bowl of hot water. Once your wax is melted, you can tip your candle onto a rag or paper towel and your gem will slide out with any remaining wax.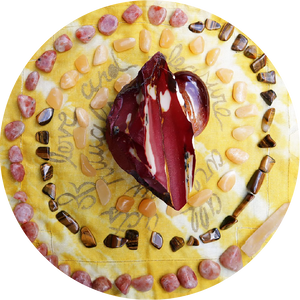 Where do you get your gemstones? What about the mining of the Earth?
We acknowledge that there is no truly ethical way to extract gemstones from the Earth, as these are a finite resource. However, we believe being mindful of where our gem comes from and how they are extracted is a gesture toward sustainability.  
First and foremost, Magic Hour uses as small a piece of a gemstone as possible in each candle. We believe in receiving the energy of the stone without extracting too much from the Earth. We do not believe larger stones are more powerful or important than smaller stones.
Our gems come from two distributors, one in Canada and one in the US. These two gem sources are specifically chosen because they deal exclusively with mining businesses that use better labor and earth practices. Being mindful of where you buy your gems and how they are mined matters! The awareness of gems as a precious resource matter. We are always thinking carefully about the use of gems, and our practices are ever-evolving.
Please read the thoughtful piece Dori Midnight wrote on gemstones here.
SHIPPING
How are the candles shipped? How do you calculate shipping costs? 
Magic Hour ships twice a week from January to October, and 4-5 times a week during the winter holidays. We exclusively ship our candles via USPS priority mail, which is tracked and insured. USPS continually raises their rates for all mail and we generally stay under market for shipping. 
Candles are heavy and fragile. Please know that your candle is wrapped with care using high quality materials. Please reuse or recycle shipping materials. Our packaging peanuts are biodegradable and can be dissolved with water or placed into compost bins.
Where is my package? How do I track my package?
Priority mail within the US can take anywhere from 1-5 days. Once your candle is shipped, you will receive an email with your tracking information. Please watch your tracking carefully to monitor your delivery! Once your candle has shipped, you have as much information about where your package is as we do.
In the event that your package is marked as delivered in tracking and is not found, wait 24 hours. If your package doesn't appear after 24 hours, please talk to your neighbors and postal carrier. If you suspect your package is lost or stolen, you can file a claim with USPS, as you paid for tracked and shipped Priority Mail. As the vendor, we are not able to start claims for customers. We are not liable for packages that are lost and stolen, but we do want you to have your candle!
I live in Portland! Can I pick up my candle in person?
If you are in Portland, we are happy to offer contactless pick up in NE Portland. Please use the code PORTLAND at checkout and be sure to include your email address in the notes field and we will message you as soon as your order is ready for pickup with the address and instructions.
Do you do sales? Can I have a discount?
Sales and discounts are extremely rare at Magic Hour. Occasionally, we have discounts and specials for mailing list subscribers. We do one big seconds sale per year, and this sale happens in December. While we love bulk orders, we do not give large or quantity discounts because we keep the prices as low as possible while considering the cost of materials and the value of labor. Capitalism perpetuates sales and discounts into our regular repertoire because typical business practices are rooted in overpricing, scarcity, and hoarding resources.
What do you mean by enchanted?
Bran is a witch and anoints the wax for each candle to be imbued with a magical intention or spell. Bran adds oils, essences, and herbs to strengthen the magic of the candle. Some batches of candles get words, some batches get songs. Some candles are enchanted as they are stirred, some as the dropper of essence get added. Bran uses their own magical skills to determine what each candle needs. While every candle has a different incantation, the rituals do stay consistent across themes. 
Some examples of enchantments:
+ The Letting Go candle gets a counterclockwise stir and me sharply saying Release! Unbind! Surrender! Unwind! Let go!
+ The Revolution candle changes and evolves, but the enchantment is always very movement-based, like a liberated dance.
Where does the revolution candle money go?
Money raised from our revolution candle goes to a different social change or social justice organization every season. Usually, we donate to between 2-4 organizations per year. All information about where the revolution candle money is currently going can be found in the website description of the candle.
The revolution candle was birthed out of the Standing Rock movement and was inspired by the revolutionary acts of Sioux Tribe and united Indigenous people protesting the pipeline construction on their land.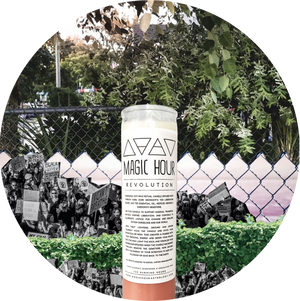 Since 2017, revolution candle proceeds have benefitted the following organizations: