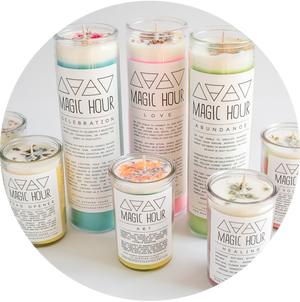 Our candles are a perfect way to intentionally work with magic. They can be used in ritual, to focus and manifest wishes, to clear or draw fresh energy, to anoint or bless a space, to cast spells, and much more!
Shop
Magic Hour candles are lovingly handmade, long-lasting tools of manifestation.
Learn more about this process in the video below.
Each glass candle container can be written on or collaged upon to personalize a specific vision and express intentions creatively.
Upon first lighting, breathe deeply and ground and center yourself. Hold the ritual candle and state your intention or wish. This creates a charge with your personal energy and sends your prayer into the wax. Light the wick and visualize your desires expanding into fruition, supported by the Sacred Flame.
Our candles contain special elements and ingredients to enhance and complement their specific magic.
These come in the form of energetic medicines like flower, tree, gemstone, and/or environmental essences. As well as natural oils, eco-friendly colors, and the most beautiful herbs, flowers, and resins, grown and ethically harvested locally. Only non GMO, clean 100% soy wax is used in small batches, so the wax color can vary. Our wax is enchanted as it's poured for extra power and purpose.
Many Magic Hour candles contain a charged gemstone.
Each candle description will let you know if a charged gemstone is nestled lovingly at the bottom of the candle. All gemstones are charged under the most favorable astrological skies. When the candle has burned through, you may remove the charged gemstone - now infused with the energy of your intention to keep as a talisman or to give back to the Earth.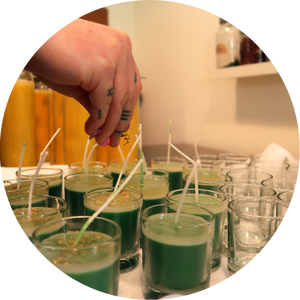 Created magically in sacred space with integrity, quality, and great intention. Each step of the making process is treated as a magical act to ensure you feel the dynamic potential in each candle.
Shop
I am obsessed with the Abundance candle. So much so that I ordered my second one! I just feel the magic in this candle. I feel cleansed and renewed. I could not be happier! I am a customer for life.
These candles are so special. The personal touches from Bran make the magic all the more wonderful to receive!
I love the planet/tarot candles. I also got the Mercury candle and used it during the last Mercury Rx and while working on writing projects, I really felt the good vibes.
Magic Hour candles are a staple on my altar. Not only are the candles beautifully cultivated, the attention to detail speaks to my Virgo sensibilities and the customer service is beyond lovely.
The candle has great energy and I can tell a lot of love and care went into making it. I am very excited I found this shop. Looking forward to future purchases!
Love these candles! They burn for hours, always come packaged perfectly and with a personal note. Will definitely continue to purchase!
Sturdy, high quality, and burns great! You can always feel the potent magic and intention in these candles!
I'm hoping to bless some creative endeavors and lighten some anxieties. Magic Hour candles light like a dream, opens up the space, and looks so beautiful on my altar!
My go-to gift! Whenever I want to get a thoughtful something this is immediately where my mind goes. Beautiful candles full of magic to support one's deepest intentions.
LOVE this shop! I've ordered several times and the quality of the candles along with the kindness in the interactions made me feel part of a loved community.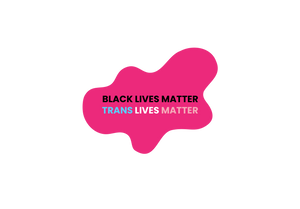 Magic Hour works to uphold and support the values of collective healing, justice, revolution, and love.
In this time of late-stage capitalism, exploitation, and destruction of the planet, we believe in sowing the seeds of liberation and abundance for all. We believe that all bodies are sacred and have choice, dismantling white supremacy is white peoples work, land back always, and LGBTQIAA+ rights are human rights.