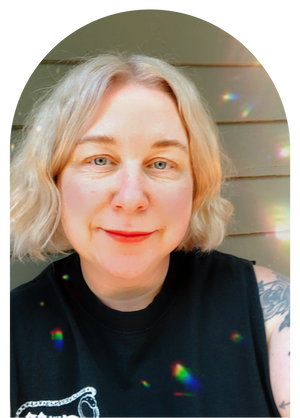 Magic Hour is the work of me, Bran Taylor.
I am a deeply intuitive, queer, non binary, working class, witch, psychic, and chandler, currently living on unceded Chinook land also known as Portland, Oregon.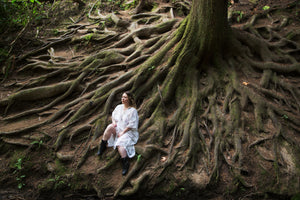 My journey as a witch has been four decades in the making.
Upon first picking up a tarot deck in the 90's, I was transfixed by the symbolism, the guidance, and the beauty. I spent the 2000s learning healing magic and self embodiment from lesbian elders. During the 2010s I was deep inside a mystery school honing my craft as a Priestess and Ritualist. Since 2020, I've been turning inward and focusing on my craft as a crossroads witch.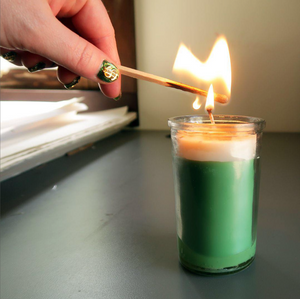 Magic Hour candles were created in 2012.
Fresh out of a breakup, I went to my local beloved candle magic shop only to find that they had closed for good. Returning home, I decided that I would try and make my own as a prayer to Spirit to help guide me during a very difficult time. I reused my empty glass vessels and purchased craft store supplies and poured my first-ever candle.
As a fierce fire sign, and a worker of transformation magic, I've always loved the power of candle magic.
From lighting the Shabbat candles to anointing my own hand-rolled beeswax tapers. Even as a young person, I understood the ritual aspect of manifestation with the flame. By honoring the scared flame, we honor the spark within ourselves.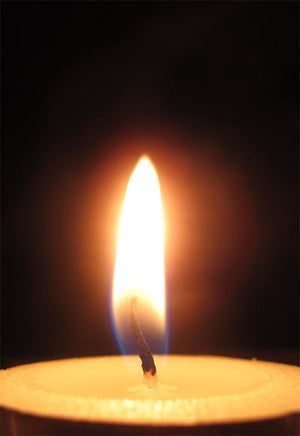 After pouring my first candles, I was ignited, inspired, and completely dedicated to the Sacred Flame.
I created candles for a new moon gathering I hosted for a few years and started taking the astrological topics of the month and broadening them into bigger magical themes, centering collective healing and liberation for all. Folks loved my candles and I found myself making them consistently for friends, lovers, and fellow witches. In 2013, I launched an online Etsy shop and began circulating magic all over the world. By 2015, Magic Hour became my only job, and by 2017, my business grew to add a few employees. But one thing has never changed, I still hand make, from start to finish, every single Magic Hour candle.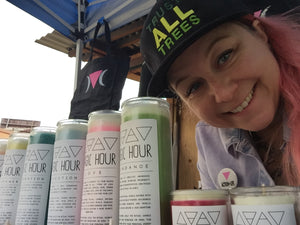 Ethics are at the heart of everything I do as a small business person operating under late-stage capitalism.
Trust that I view Magic Hour as deeply spiritual work and as a reciprocal relationship. I ritualize each step of the candle process and handcrafting, and once it's passed into your hands you take over this ritual and make it yours. I view myself as a service worker, helping guide spiritual tools into the hands of those who desire them. I'm so grateful and humbled to make well-intentioned ritual candles for you. May the hearth fire and heart's desire of the Sacred Flame fill you with love, liberation, and vitality always and in all ways!
Candle making lights me up. It helps me feel connected, on the precipice of transformation, and in a place of becoming.
The warmth from the flame fills me with safe and loving energy. The way the flame dances encourages me to be flexible and ever-changing. Magic Hour is not only my passion but also my commitment to Spirit.
My queerness, gender expansiveness, and edge walker identity is interwoven in everything I do. Queer Magic is transformative, full of abundant joy, grief, and liberation.